Offering internet services and various nerdery.
---
POWER9 Firefox Builds
Intended for OpenPOWER systems such as the Talos II and Blackbird from Raptor Computing Systems. Built on Debian 10 with GCC 8.
---
Package Repositories
Additional or customized packages for various platforms.
Solaris 11.4 SPARC and x86
Debian 10 ppc64el and amd64
Arch Linux x86_64
Haiku x86_64

A general information repository featuring machine specs, benchmark results, build logs and other reference material.
---
Oshaberi Net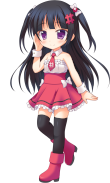 A collaborative IRC network. Discussion of technology new and old, culture, history, politics and more.
---
Virtual IRR
An old and esteemed Minecraft world, faithfully maintained since 2011. Contact the site administrator if you would like to play.